XRATES THING [SLUICE]
check it here: Sluice XRates
19 – 21 DECEMBER 2014
THE HOSPITAL CLUB
24 ENDELL ST, COVENT GARDEN
Earlier this year Sluice__ in partnership with Theodore:Art and Centotto created exchanges between 30+ international galleries and 20+ galleries in Bushwick, New York. How each exchange manifested differed vastly, now the dust has settled we will be exploring the legacy of the event by collecting different perspectives by inviting participants to feed back feedback.
Feedback occurs when outputs of a system are "fed back" as inputs as part of a chain of cause-and-effect that forms a circuit or loop.[2] The system can then be said to "feed back" into itself. "Simple causal reasoning about a feedback system is difficult because the first system influences the second and second system influences the first, leading to a circular argument. This makes reasoning based upon cause and effect tricky, and it is necessary to analyze the system as a whole." [3] Wikipedia
Now, in London, Sluice__ are collecting text and images from all the galleries, artists, speakers, visitors and interested to produce a working document in response to the expo. Any thoughts, critical observations or documentation is welcomed. Material can be submitted directly to our temporary hub in The Hospital Club Gallery (via projects@sluice.info subject: xrates) and in a live publishing event a publication will coalesce over the three day event.
The event will be streamed live on the Sluice__ homepage.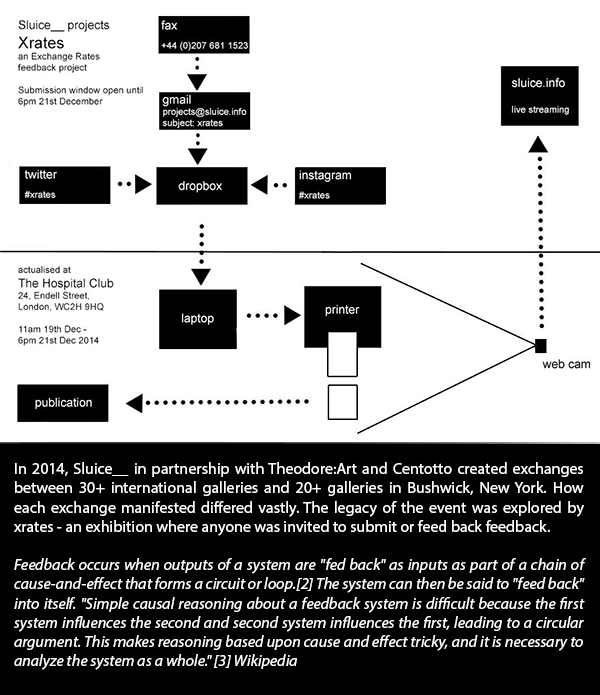 Curator:
Charlie Levine
karl England